We live in a world of social media. We can't imagine doing business without it. If you are not prominent on social media, then you do not exist. But we all know that trap: you create dozens of social media accounts, you can hardly keep track of them, you don't remember to post in time, and you don't post everywhere. You get tons of messages you can't keep up with.
Eventually, you either not share your content everywhere (the way you should have) or turn into your own social media manager, sharing and posting content all day long.
We've all been there.
This is where SocialPilot comes into the picture. SocialPilot is a social media posting software with reporting and content curation features. It is a manageable and automatic software service, making it a viable alternative for other popular tools out there.
SocialPilot's features
SocialPilot is a great social media management tool that offers all the basic functions you would expect and some advanced features to make your social campaigns even more efficient.
Social media post scheduling
The foundation of any social media management tool is automated future post scheduling.
SocialPilot supports all the major social networks, including Twitter, Facebook, Pinterest, and LinkedIn.
It's even possible to connect to an Instagram or TikTok account. However, posting will not be automated for these social networks (at least it isn't at the time of this writing). But, you can set up a reminder through SocialPilot so that you would push the content to go live at your proposed time.
There are plenty of advantages to social media posting through SocialPilot.
The social post creation interface is neat and intuitive and comes packed with a handy Canva integration if you wish to add an illustration or video directly from your account. 
There is also a very convenient post preview option, so you can see how your post will look like before it goes live.
For big companies with high volumes of content that need to be continuously shared, there is even an option for bulk scheduling through a CSV file upload. This feature can be handy, too, if you want to schedule half a year of social media content in advance and forget about it.
You can even schedule posts to go live in different time zones, and an easy-to-use social media calendar simplifies the manner of re-ordering your posts through a drag-n-drop interface.
SocialPilot's Advantages
This tool provides its' users with an efficient and functional interface.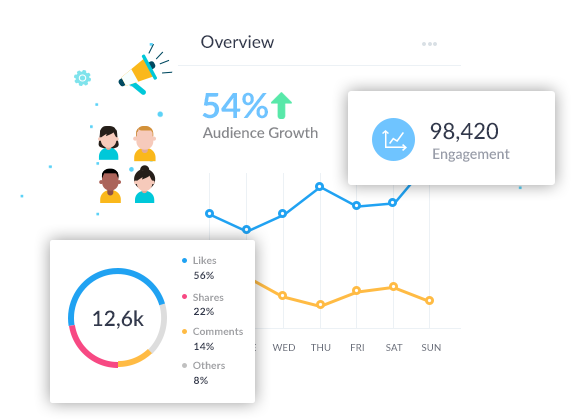 The initial setup process is fast, and you can connect various social media accounts in just a few clicks. Since SocialPilot connects to an extensive list of social networks (Facebook, Twitter, Instagram, LinkedIn, Google My Business, Pinterest, Tumblr, and VK) – it is easy to put your social media presence on autopilot. Or, rather, on SocialPilot. 🙂
In reality, SocialPilot is a very practical tool that will cover all your needs when it comes to social media sharing and content curation.
SocialPilot's pricing
The main advantage SocialPilot has over the competition is the highly competitive pricing structure, with the cheapest plan starting at $25/month if you pay 12 months ahead. You can connect 25 social media accounts for this price and get access to bulk scheduling and content curation for 3 different team members.
This is definitely an impressive pricing structure, considering that competition websites such as Buffer and Hootsuite charge 3 times more the same number of features.
You can try SocialPilot with their 14-day free trial, no credit card required to signup. You can literally give it a test drive and see for yourself if it coves all your needs and makes your life better in a process.
SocialPilot – conclusion
SocialPilot offers a great value for money in a feature-packed SaaS suite.
It offers a very cost-effective alternative to Hootsuite and Buffer for businesses that need to post on multiple social media accounts on a daily basis.
Their interface is clean and fresh, and you can even install SocialPilot browser extensions for Chrome and Firefox, along with both iOS and Android apps, to make your social managing available to you even faster.
It's a great tool that provides 150% value for your money, so why not try it?