WordPress wiki plugin: How to choose the right one for your knowledge database and what is the best WordPress wiki plugin in 2022 and beyond? Let's find out!
If you intend to scale an online business using a WordPress website, you should consider starting with a wiki as your first line of support.
A wiki enables you to build a knowledge base for your product or service or share a wide range of information on a certain subject. It is searchable and organized hierarchically to allow users to quickly find the appropriate articles.
You can use a wiki to:
Allow customers to find answers to their own questions.
Reduce your reliance on support employees and save money.
Increase conversion rates by addressing objections or concerns as soon as possible.
Improve client happiness by providing round-the-clock assistance.
A wiki plugin is the best approach to establishing a wiki on your WordPress site. It enables you to construct a gorgeous wiki without dealing with programming.
A wiki theme or template is another possibility. However, this is really only appropriate if you're creating a dedicated wiki website. If your wiki will be an extension of your business's website, a wiki plugin is a way to go. In fact, employing a wiki theme in this situation could be disastrous. It will force you to make significant changes to your website that may or may not be consistent with your brand.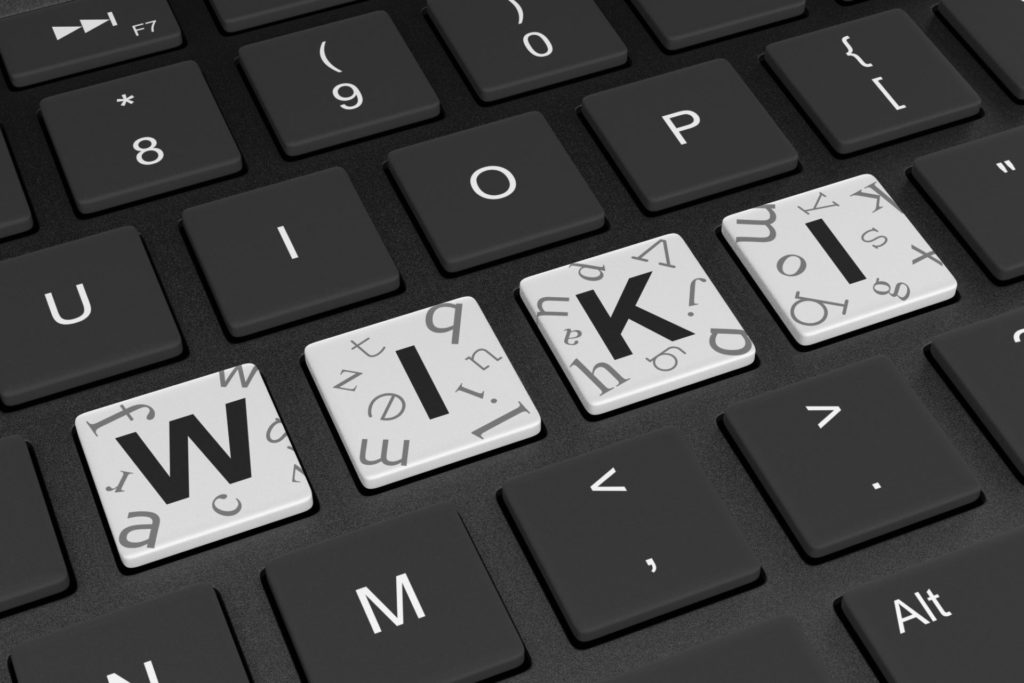 A lot of wiki plugins for WordPress are available, and this post will show you what to look for when you're deciding which one to use. We'll also look at the best plugins for customer service.
Choosing the Best WordPress Wiki Plugin
Maintaining a wiki on your site entails more than just producing and managing the material. You must do everything you can to make your visitors and customers have the best possible experience at your place of business.
With that in mind, here are some things to look for when evaluating a WordPress wiki plugin:
Speed: As your business expands, so will your consumer base and their informational requirements. To make your website run faster and more efficiently, you should use your wiki plugin.
Theme compatibility: is essential when looking for a WordPress wiki plugin. Make sure it is compatible with any WordPress theme and any other plugins that are active on your site.
Ease of Use: A wiki plugin should be easy to use for both your visitors on the front end and you and your employees on the back end.
Responsive Design: A decent wiki plugin should make sure that your WordPress knowledge base articles look great on whichever device your users use to view them.
Analytics and feedback: If you can't measure it, you can't improve it. A WordPress wiki plugin must be able to see which wiki articles are getting the most views and upvotes and which ones need to be improved.
A decent wiki plugin should make it easy for users to quickly download additional files (such as PDF manuals or other documentation).
We've chosen the plugins listed below to help you write and publish wiki articles on your WordPress website. These will assist you in creating a visually appealing and user-friendly wiki that looks great on both desktop and mobile devices.
Helpie WP is a premium plugin that combines the features of a wiki and a knowledge base. It enables you to construct public wiki sites on a variety of themes, such as movies, business, video games, and more.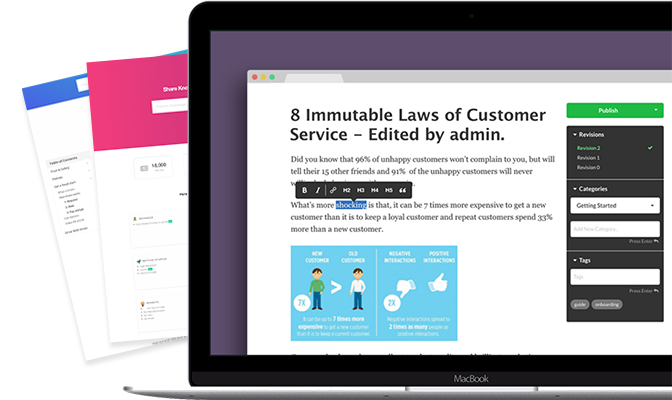 Helpie WP focuses on teamwork. From the front end of your website, visitors can sign up and submit articles. You may also control who has access to modify and publish information.
Helpie WP's main features are as follows:
Configure who can edit, publish, or approve articles and save and roll back to previous changes.
Set topic-based limits for users.
Personalization of style
Integration with page-builder plugins like Elementor's AJAX-based live search and breadcrumbs
Password security
Voting on articles to foster a collaborative wiki community
Shortcodes are supported.
Yada Wiki is a free WordPress wiki plugin that includes important features for building your wiki site. It adds a new post type to your WordPress configuration. This means that you separate wiki articles from regular posts and put them in their own categories and tags.
Using shortcodes and widgets, you can show your wiki articles in various places on your website.
You can also use a widget in the sidebar to show a table of contents or the title of an article for a certain category.
However, one disadvantage of Yada Wiki is its restricted flexibility. The majority of its styles are inherited from your theme. As a result, there isn't much you can change without modifying the code. It's probably best suited for people who are willing to invest some time in creating their own wiki.
Yada Wiki's main features are as follows:
A new wiki post type with configurable categories and tags has been added.
Shortcodes are supported.
The table of contents
Use page titles to connect wiki pages.
There are widgets in the sidebar that display recent articles or articles in a specific category.
WP Glossary – WordPress wiki plugin
WP Glossary is a premium plugin that lets you construct a wiki with information sorted by categories and glossaries with terminology organized alphabetically. It creates a new custom post type for wiki material, although it is also possible to use existing post types. Your posts are then collected into a cleanly designed index page.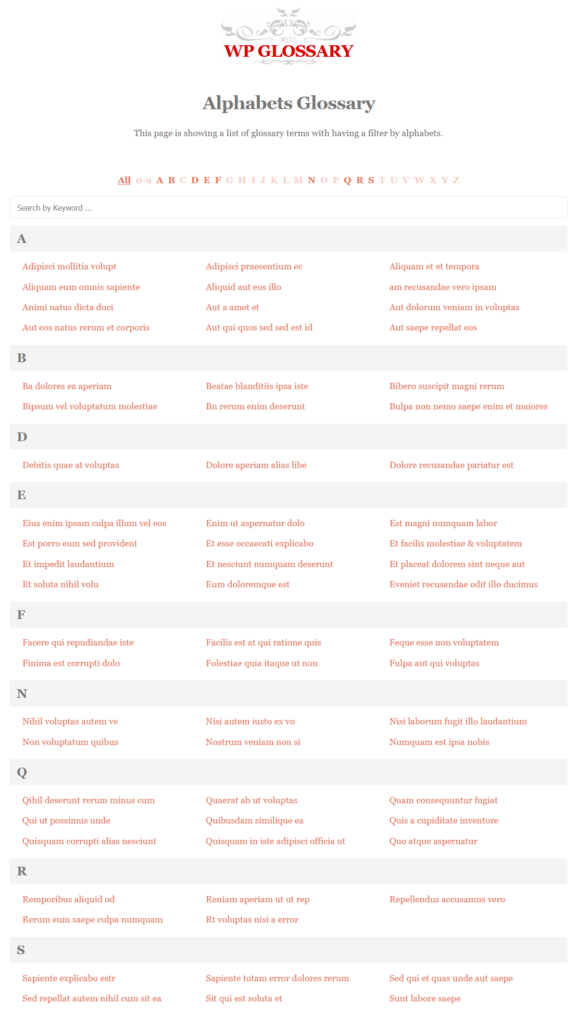 It has a simple design and built-in styles, so you won't need to do any customizing to make it fit in with your website. You can, however, change features like tooltip popups, font colors, and more as needed.
The WP Glossary's main features are as follows:
Display glossary terms with animation effects.
To increase SEO, link phrases to posts.
When the mouse hovers over, a tooltip is displayed.
Styles that are unique
Using shortcodes, you may add a wiki to any post or page.
Compatible with BuddyPress, WooCommerce, and other similar platforms.
Wikimedia Commons hosts an encyclopedia, a glossary, and a wiki.
Encyclopedia, Glossary, Wiki is a free, all-purpose plugin that allows you to create an online dictionary, lexicon, wiki, or encyclopedia. You will see that it can function as a multi-functional WordPress wiki plugin that will cover all your knowledgebase needs.
It creates a new custom post type based on WordPress's native blog post capability. You can publish new articles in the same way as you create WordPress posts, and you can also publish a dedicated index page where all of these articles are listed in reverse chronological order, just like on your blog.
Among the key features are:
The index page was generated automatically.
Tags and categories are used to categorize wiki articles.
Cross-linking of articles appearing in posts and pages is done automatically.
Translation-ready and backward-compatible WPML
Revisions for wiki articles are saved.
Comments on wiki articles
WordPress user rights and powers are supported.
Dedicated search with a widget in the sidebar
Search query auto-completion and article suggestions
In the sidebar, there is a widget that displays articles, tags, and categories.
As the name suggests, WP Knowledgebase is a simple and customizable free WordPress knowledge base plugin that adds a knowledge base component to your website. You can change the URL slug for this section to suit your needs.
Tags, taxonomies, and categories can be used to organize wiki articles, and you can configure several aspects of your wiki, including colors, sidebar layouts, the order and number of articles to display, and categories.
WP Knowledgebase's key features include:
Reorder articles and categories by dragging and dropping.
Predictive Text Search Engine
Observations on your Wikipedia articles
Breadcrumbs
Slugs are editable.
Responsive
There is also a pro edition with more features:
A feedback widget for visitors
Analyze the search results
Wiki articles can be restricted to particular users.
KnB is yet another free plugin for creating a customizable and responsive wiki. With shortcodes and widgets, you can change many features of the design and publish the wiki anywhere on your website.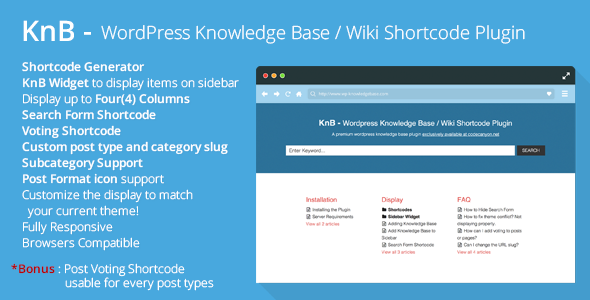 A user can also vote on an article by giving it a thumbs up or down, giving you feedback on the value of your wiki articles.
KnB's main features are as follows:
Shortcode for the search form
Any post type can use the vote shortcode.
Post type and category slug customization
Adapt the display to the current theme.
Shortcode creator
A widget for displaying stuff in the sidebar of your website.
Customize the color scheme.
Mobile-friendly
Very Simple Knowledge Base
A Very Simple Knowledge Base is a free and lightweight WordPress wiki plugin that allows you to create and organize wiki articles in a simple manner.
However, if you want to manage your wiki content separately from other information, or if you want your visitors to be able to search only your wiki content, you should go elsewhere.
The following are some of the key features of the Very Simple Knowledge Base:
Make a FAQ, a wiki, or a link portal.
You can use a shortcode or a widget to show the content of your current posts and custom post types in a number of responsive rows.
Modify shortcodes and widgets to filter posts by categories.
When you use a shortcode or a widget, you can change the order in which posts show up.
MinervaKB is the perfect WordPress wiki plugin that offers a premium knowledge base plugin for creating a searchable wiki platform. The search page is sleek, simple, and easily customizable. Thanks to its connection with Elementor and Visual Composer, MinervaKB makes it easy to configure the layout of your wiki page.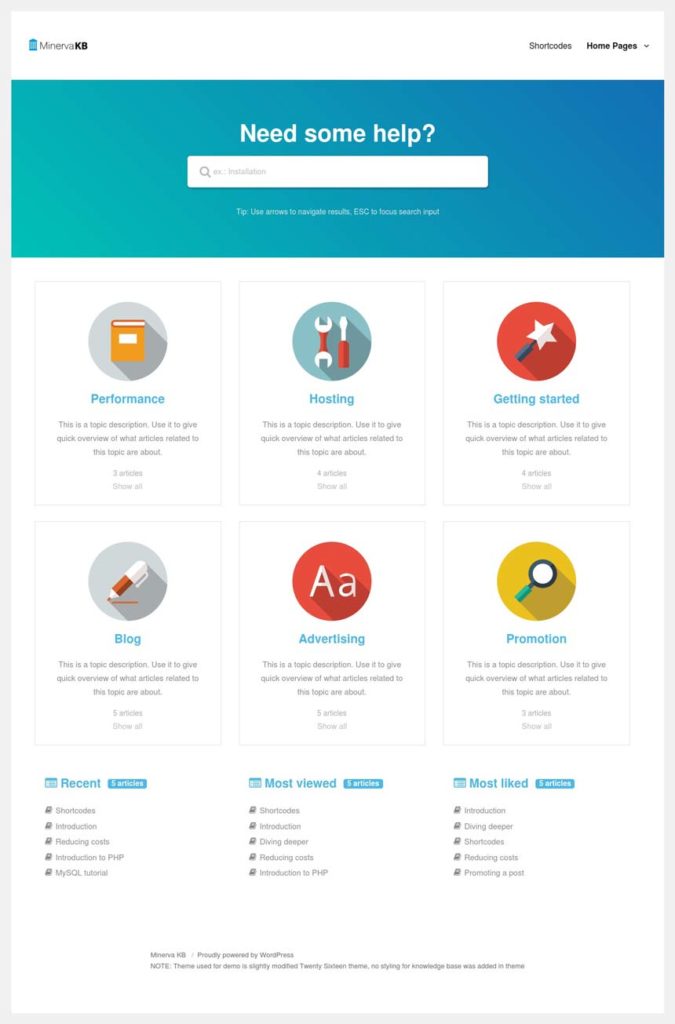 However, if you're a new WordPress user or seeking to construct a simple wiki, this plugin could be overkill. It's easy to become overwhelmed.
MinervaKB's key features include:
AJAX search in real-time
Buttons for liking and disliking
Customization of colors
Shortcodes for content
Google Analytics integration and a dashboard for analytics
Content stipulation
Topics that are nestled
Table of Contents Changes
Pixel Knowledge Base and Wiki Plugin
Pixel Knowledge Base is one of the more affordable premium WordPress wiki plugins. It includes the fundamental features required to set up a wiki site. It allows visitors to sort articles by title, date, votes, or views without having to refresh the page.
The following are the key features of the Pixel Knowledge Base and Wiki plugin:
Categories for voting with up to four columns per row
Submission of front-end content
Limiting categories based on user roles
Live ajax search with intelligence
Options for advanced sorting
Heroic Knowledge Base is a knowledge base plugin as well as the best WordPress wiki solution. This WordPress wiki plugin is easy to manage and use. Using Heroic Knowledge Base, you can add a user-friendly wiki to your site that is compatible with any WordPress theme, allowing your visitor's fast access to support knowledge.
One of the most useful features of this plugin is a robust, AJAX-based search mechanism that can suggest articles as the user types. You may also arrange search results for certain queries so that your chosen articles appear at the top.
Furthermore, you will have access to powerful analytics insights that will assist you in determining what visitors are looking for and whether they are obtaining the information they seek. Customers can also leave feedback on the articles.
The following are some of the key features of the Heroic Knowledge Base:
It's easy to use and smoothly interacts with your WordPress site.
Because of the great design, your wiki site looks wonderful right out of the box.
Thanks to the lightning-fast AJAX-based search, customers may find what they need in seconds.
Collect feedback on articles so you can determine which articles are most beneficial to customers.
Analytics is built in to find how successfully your knowledge base is assisting users.
Drag and drop category ordering allows you to order everything exactly how you want it.
Articles can be password-protected and hidden for different user roles.
Provide downloadable files to your visitors in articles that include attachment support.
Several widget kinds are available to display articles, categories, and authors across your site.
Most well-coded themes are compatible, and responsive styles are available.
WPML compatibility and translation readiness
completely localized
Fantastic help from people who know a lot about WordPress, as well as a lot of tutorials to help you get your wiki up and running.
Create a knowledge base and assist your customers with self-help.
DW Knowledge Base Pro is a high-quality and reasonably priced WordPress wiki plugin. It lets you make a wiki that has a good user experience by using different layouts, clean designs, and other things.
DW Knowledge Base Pro's key features are as follows:
Layouts for the archive and index pages are predefined.
Search form with auto-suggestions for articles
Forms for comments
Breadcrumbs
Statistics on article views
RDP Wiki Embed is a free WordPress wiki plugin that allows you to use shortcodes to embed an external wiki page or piece of a wiki page into a WordPress website. You can also change the page's look, with options to show infoboxes, change links, and show a table of contents.
However, it is not coded to function with the new Gutenberg block editor. As a result, you'll have to pair it with another plugin that restores the original editor.
RDP Wiki Embed's key features are as follows:
Get information from any Mediawiki website (such as wikipedia.org).
Visitors can read wiki articles without leaving your site if they are stripped and reformatted.
KnowAll WordPress wiki plugin
KnowAll is one of the most popular premium WordPress knowledge base themes. It's ideal for swiftly establishing a knowledge base for your business—but it doesn't sacrifice important features like live search, analytics, and feedback for ease of use.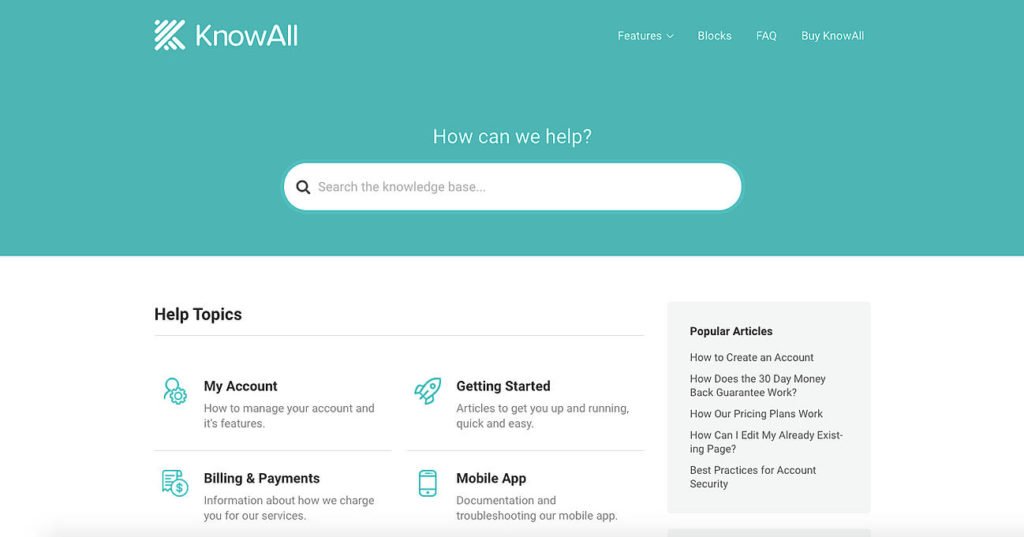 The first thing you'll notice about this theme is how simple it is. KnowAll has a professional, appealing design with an easy layout that makes it easier for users to find information. You can easily change the theme to match the look and feel of your business.
KnowAll also includes analytics tools to help you enhance the quality of your articles and better understand what material is beneficial to users. The "failed" search list, which tracks the terms users search for but do not find an answer for, is a particularly important metric. People who use your support channel less often because they don't know as much as they should will benefit from this measure.
Woffice is a modern multipurpose WordPress theme created for sites with a high level of user engagement, such as knowledge bases, wikis, and intranets. One of the best BuddyPress themes can be found with this theme. This theme can also be used for community sites, and it is one of the best.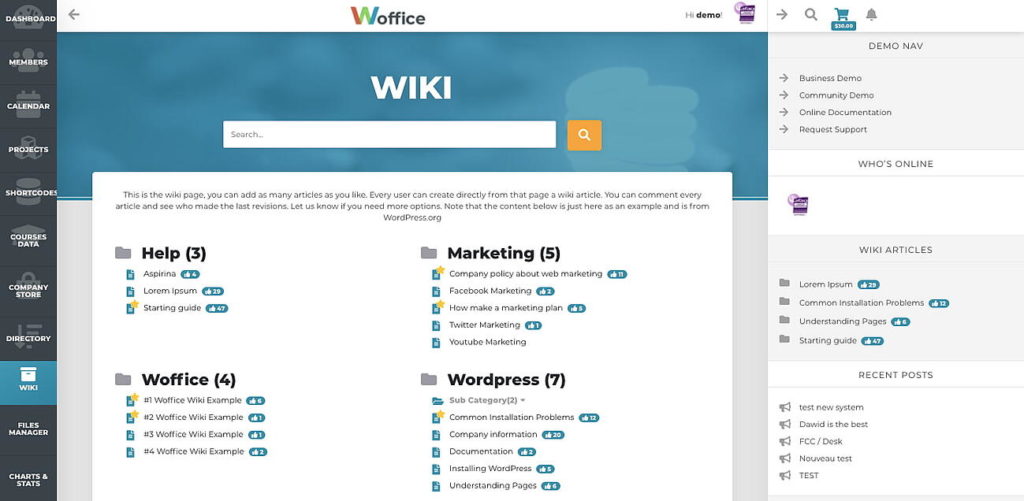 Because it provides many choices for listing your projects, you may use this theme for project management. It also has powerful and drag-and-drop user dashboard administration tools, which make it easy to change the look of your dashboard.
The Woffice theme has demo design options as well as one-click features to ensure that your site is up and running in no time. This theme includes over 20 extensions that you can use according to your needs and allows you to deactivate the rest.
It also has a community network, a custom login page, forum choices, bundled premium plugins, chat and messaging features, a file manager, a calendar, a directory extension, and more features.
KnowHow is a simple WordPress theme designed for informational websites with a lot of content. It's one of the most popular and well-liked premium themes in our category.
KnowHow has a responsive, SEO-optimized design, a user-friendly AJAX live search feature, and a visually appealing FAQ page. It includes a number of shortcodes that you can use to add features to your content such as buttons, alerts, and accordions.You may also use the built-in color picker to create your own color scheme for your site.
HelpGuru, as the name implies, is meant to help you build an educational knowledge base website that can make your customers' lives better.
HelpGuru has an appealing and professional design that makes it easier for users to find the information they seek. This theme is SEO-friendly and fully responsive, as well as HTML5 and CSS3 coded, so your site will look great on all devices.
You can utilize the theme customizer with a real-time preview option to construct your knowledge base or wiki. In just a few clicks, you can alter the color scheme, upload a custom logo, and do a variety of other things. Anyone can use this theme to customize their site and make it their own.
This theme is also able to work with bbPress, so you can quickly add a forum to your help site.
Flatbase is a great choice for creating a self-service support site for your product. Flatbase is specifically developed to assist you in creating knowledge bases and wiki sites that will help you satisfy your current and prospective customers.
Flatbase not only has a fully responsive and retina-ready design, but it also has extensive theme options panels that allow you to adjust every section of the theme. If you want to make your site look different from the rest of the website, you can do that with AJAX live search. You can also make your FAQ layouts in accordion or list format. You can choose from over 700 Google fonts.
Flatbase also supports bbPress, which allows you to add a forum component to your site.
Conclusion
Have you found the WordPress wiki plugin you were looking for? How you respond to present or future customers can make or ruin your reputation. The more people who see your wiki, the more efficient your business and the more satisfied your customers will be.
You can convert your WordPress site into a wiki-style website by utilizing one of these WordPress wiki plugins. This may appear to be a tough or difficult chore to complete, especially if you are not very tech-savvy, but it will be easy if you use one of these plugins. These various plugins have some overlapping features, but some of them offer very distinct tools and features based on what you want to achieve by turning your site into an informational website. So, let's have a look at these fourteen plugins side by side so you can compare their features and decide which one is best for you. With the plugins indicated above, you may establish a wiki in a matter of minutes. Heroic Knowledge Base is your best bet, whether you need a small and simple wiki or a massive enterprise-level wiki plugin. Get it right away.