Are you looking for the best auction plugins for WordPress? Or just any auction plugin for WordPress? Or the best WordPress marketplace plugin?
You can turn your WordPress website into a cash machine! With the right plugin. Whether you want to build a small auction website or the next eBay, you can undoubtedly go for it with these 10 auction plugins for WordPress.
The Best Auction plugins for WordPress
1. YITH WooCommerce Auctions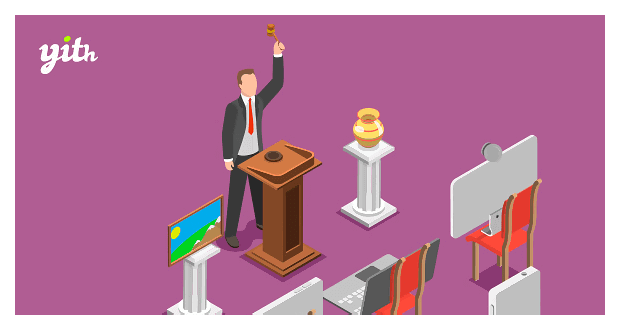 YITH WooCommerce Auctions has wide range of features that would make eBay jealous! You can net up auctions with your own product catalog and offer affiliate sellers the possibility to add products to your online auction house. You can then receive a percentage of the sales price when a product is sold. It is also possible to add a "Buy Now" button to a product.
If you think about auctions, chances are you're thinking about the most popular online auction website ever: eBay. Wouldn't it be great to add the power of eBay auctions to your personal website? Well, you can now!
YITH WooCommerce Auctions is a plugin that you can add easily to your website. This tool has a range of great features that give eBay a run for its money. Not only can you set up your own auctions for your product catalog but vendors that are associated with your website can link items to your online auction house.
As a result, you're going to cut the money that your vendors get when a product sells. You can also add the "Buy Now" button to any product. Simply set the price, let the auction take place, and if anyone wants the product, they can buy it straight away. If you are familiar with Woocommerce auction plugin, you are going to love it.
Price for 1 site €89.99/$102.7
More info
2. WP Auctions
WP Auctions is a complete auction program that you can easily add to any WordPress website. After activating and configuring, you can immediately start adding products. And what kind of products can you auction with WP Auctions? There are hardly any restrictions. It is all possible from cars and motorcycles to real estate and from antiques to taxidermy!
If you want an auction website to sell your own products, you can never go wrong with WP Auctions!
Although the plugin has recently added a beta feature that allows users to sell goods, you can still restrict their position to bidding only. It's both easy to use and sensitive, which means it looks just as good on mobile phones. In addition, it takes less than 5 minutes to install it on your site.
One distinct function that no other plugins have is the second chance. The plugin sells ansold goods to the highest bidder or the nearest reserve price. The usual suspects, such as email updates and payment gateways, are well taken care of. In reality, users may also subscribe to an RSS feed for automatic updates.
Most notably, the plugin adds three layers of protection to your bidding area – stopping bots from breaking in. So, if you're not sure about these features, you can go to their official page to try the demo version first. Online community support is also available for those who contribute to the annual plan.
Price for single download $39 or annual subscription $89/year.
More info
3. Ultimate WordPress Auction

The Ultimate WordPress Auction plugin is a user-friendly tool for setting up their own online auction house, but do not have any programming skills. Once you have activated the plugin, you can immediately add items that people can bid on, including a detailed description and up to 4 images with the free version. The interface is also easy to understand for buyers. They can offer with a credit card and PayPal, and turn on notifications so that they get instant messages when they are outbid.
The "ultimately" plugin lets you have a well-rounded auction website, a pun intended! What's more, you don't need any technological expertise at all. The setup is easy to follow, and if you need it, the help is there to lend a hand.
The free plan helps you to set up a fully operating auction website. You and your registered users will position bids and set the initial and reserve rates.
Whenever an update is made to the bids, an email notification will be sent to the people following or bidding on the item. Payment may then be made by PayPal or credit/debit cards. AJAX also powers the interface, so you don't need to reload your page with any change you make.
The Premium Package gives you more choices for your bidding requirements. You can charge ayour users any listing, bidding, or shipping fees. It is also possible to categorize and check for successful bids. If you want to include bids from another site, you're not going to have to switch them one by one. Do all of this at once with the bulk import function.
The plugin developers also deliver a pro theme dedicated to improving the user experience. It costs between $89 and $199, depending on the features you select. The easiest way to know this is to try the free version first and determine whether you need advanced features later. Start your own auction house with this auction house plugin.
4. WooCommerce Simple Auctions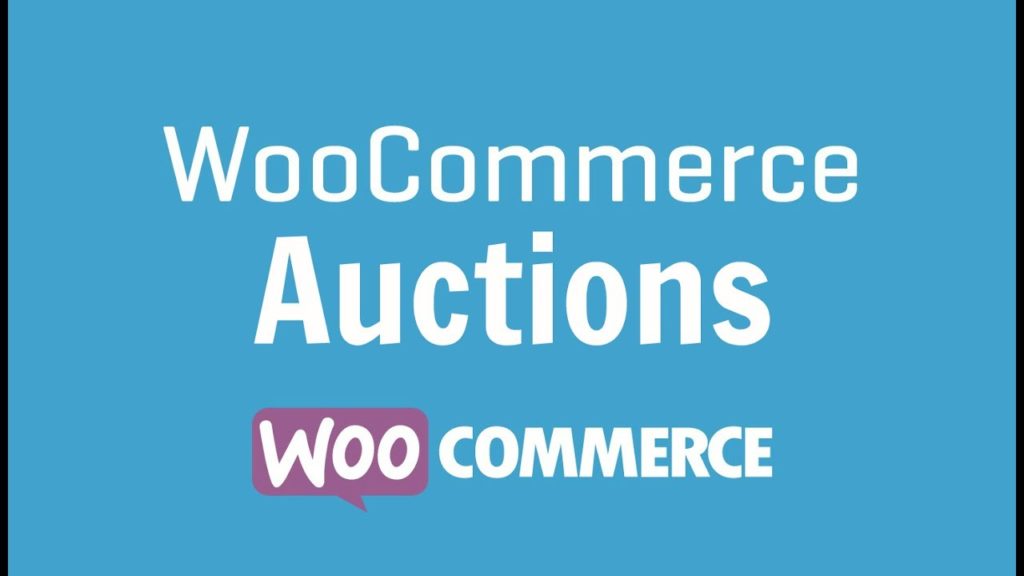 Most of what WooCommerce does becomes the best and I think one of the best auction plugins for WordPress is from WooCommerce creators. Whatever products you want to offer, with WooCommerce Simple Auctions, you have made an online auction house of your WordPress site within half an hour. The plugin offers numerous features that make it a real competitor to eBay. You can set price increases per bid, start times and end times. Potential buyers can register by entering their payment details. When someone wins the auction, the payment is automatically processed, after which you can send the product. It will not be simpler!
Many payment methods are supported, such as PayPal and Google Wallet. The theme is available in several color combinations. You can adjust a lot yourself without the need for technical knowledge. AuctionPress is fully SEO-ready, and you can also maintain a blog. Furthermore, the theme works like any other theme: widgets, menus, and countless other things you are used to from WordPress.
More info
5. WordPress Automatic Plugin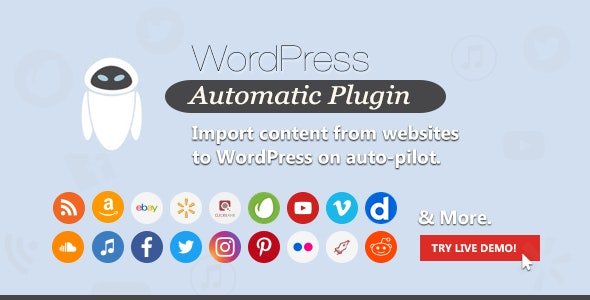 The aforementioned plugins offer you the possibility to set up auctions 'from scratch.' Now you might wonder: is there a way to put the auctions that you have already created on eBay on your WordPress site? The answer is yes! The WordPress Automatic Plugin offers you the possibility to import all kinds of things from eBay (and social media). After installing the plugin, you can log in with your eBay login details. Then you can link your active eBay auctions to a page on your website. The plugin updates in real time. So when you add a new auction to your eBay profile, it automatically appears on your website.
6. Auction Nudge

Do you want to add more to your website than just your eBay items? Then Auction Nudge is the ideal plugin. You can add your full eBay profile to your WordPress website. This is particularly useful if you already have a respectable eBay account with a good feedback score. When a visitor lands on your site, he/she sees the products you are currently selling, your account on eBay, and your reviews as a seller.
Do you have an eBay account and would like to see your products on another site? Go to this WordPress Nudge Auction plugin. This plugin requires little or no effort with code snippets or plugins. It allows you to display up to 100 products per page. It also allows you to choose filter options. You can also display your eBay profile and feedback without any difficulty. Above all, it comes with no price tag. Play around with the CSS to make changes to your layout and make advanced changes by mchangingthe JavaScript. They're also working on a pro version tith features like search engine readability enhancement, ad blocker, and more item details.
Features
eBay integration
Customization
Easy installation
Responsive interface
Display 100 products a page
Display eBay profile and reviews
User friendly
Gain more potential customers
7. Ultimate WooCommerce Auction Plugin
Ultimate WooCommerce Auction Plugin is one of the most popular WordPress Auction Plugins. Use this plugin to let your buyers bid and win the item right away. It offers advanced features such as easy addition of products, easy configuration steps, etc.,to help you serve your purpose. It also offers free features that allow registered users to place their bids. You can also opt for payment alerts or other activities via e-mail. You can also send information to your buyers after they place their bids on top of that. It also offers a premium version with some advanced features. It offers features such as hassle-free navigation, countdown timer, SMS notifications, collection of credit card information, and more.

Pros:
Instant product add-on: lets your buyers bid instantly with their instant product add-on feature.
Standard auction: You can define the standard auction for bidding with this plugin.
Email alerts: You can also opt for payment or other activity alerts via e-mail with this plugin.
Bid re-activation: With this plugin, you don't have to worry about the expiration of your bid. You can re-activate it at any time.
Send emails: You can also inform your bidders who have not received their bids via email.
Free version: it offers free standard features that are sufficient to support the average auction site.
Premium Features: If you need premium features such as trouble-free browsing, countdown timer, SMS notifications, credit card information collection, and more, you can opt for a paid version of this plugin.
Simple configuration: a few simple configuration steps are needed to install this plugin.
Dokan Simple Auctions operates differently from the other plugins we've examined thus far. Dokan Simple Auctions is more of an add-on than a replacement for connecting your eBay account or developing a fully auction-focused page.
To begin with, you must download the core Dokan plugin and go through the installation process. You will also require the WooCommerce Simple Auctions plugin. After that, you can implement a multi-vendor bidding capability in your marketplace by using the Dokan Simple Auctions add-on.
Other vendors will be able to register on your site and establish their auctions for buyers to bid on, which we refer to as the "multi-vendor" feature. It's similar to building your own lightweight version of eBay.
Features:
A powerful seller dashboard that allows you to keep track of your auctions.
Support for numerous vendors is robust and well-organized.
The popular core plugin's functionality has been expanded.
Despite its great features, getting started with this plugin can be time-consuming. It also necessitates the purchase of two more tools. As a result, we propose Dokan Simple Auctions only if you want to build a multi-vendor auction site.
Pricing: Dokan Simple Auctions will set you back $49 per year. The core Dokan platform is free, with additional features beginning at $104. Finally, you'll need the WooCommerce Simple Auctions plugin, which costs $29.

WP-Lister Lite for eBay allows you to connect your WooCommerce store to your eBay store easily It's also been built to work in tandem with WordPress, making its use second nature if you're a regular WordPress user.
The installation is straightforward: simply activate the plugin and follow the on-screen instructions. Following that, you may begin marketing auctioned things directly from your eBay store.
Features:
The opportunity to double-check listings and fees before publicizing them
Product variants, such as sizes and colors, are supported.
The ability to directly build templates for your listings from the WordPress post editor.
One of the plugin's main selling points is the ability to cross-list goods. As a result, if you want to broaden your reach, we offer WP-Lister Lite for eBay. Audiences can find your products through a variety of methods, ranging from organic searches to referral traffic. Cross-listing can increase your chances of being seen.
Pricing: WP-Lister Lite for eBay is free to download. You will be able to list an infinite number of things on eBay and will have access to basic features. A more robust premium package for $149 per year is available if you're interested in functionality such as creating orders within WooCommerce.
WordPress Plugins – The power behind the flexibility of WordPress
Plugins are 'small' blocks of functionality. They are extra options that you can add to your site. But we all want the best auction plugin for WordPress for our business website, right?
Would you like a contact form?
Then you can install a plugin for that. Do you want share buttons?
Install a plugin?
Help with SEO? There is a plugin for it.
Something that stops spam?
Payments via iDeal? There is a plugin for that.
There is a plugin for everything you need.
WordPress is so much more than just a CMS to blog with. You can make anything with it, even your own auction website. This article, looks at the different ways to create a WordPress auction website.
There are several plugins and themes available with which you can create an auction website yourself, such as Marktplaats or eBay. Plugins often involve systems that can be used in (almost) any theme but that do look less professional as a result. The advantage is that you do not have to choose a new theme for your WordPress website. If you install a WordPress auction theme, your entire website will look different. This has its drawbacks, but also its advantages. Your website will have a professional auction look.
Best auction plugin for WordPress
Still not found what you are looking for in our list of auction plugins for WordPress? You can also opt for a complete auction theme, such as Responsive WordPress Auction, an auction theme for WordPress. You can create a website with WordPress online auction plugin or just search for auctions made easy for woo commerce. They will all work for you if you want to start a WordPress online auction.
Are you looking for any of the best WordPress Auction plugins? You came to the right spot. You can turn your modest website into a money-making machine with the right plugin. If you're trying to set up a small auction site or want to give eBay some monster competition, the perfect plugin will help you do that.
This post will share our handpicked list of the 10 best WordPress auction plugins on the market.
How to start your auction site
You'll need a WordPress website before you can download and install the best WordPress Auction plugins.
There are two types of WordPress websites: WordPress.com, the hosted platform; and WordPress.org, the hosted platform. You're going to need the latter for your needs. However, don't hesitate to check out our article on all the discrepancies between WordPress.com and WordPress.org if you still have questions.
You would need a domain name, web hosting, and SSL certificate to operate a proper auction site.
A domain name is the url of your web site, such as Google.com or lizs3.sg-host.com; also known as your URL. Web storage is the way your files are stored online. Basically, if your domain name is the address of your home, the web hosting is your home.
And an SSL certificate is what makes your domain name safe and enables you to confidently accept online payments.
When you install an SSL (Secure Sockets Layer) certificate on your site, your website URL will be prefixed with https instead of https. In addition, a small green padlock icon will be shown in front of the https that lets your visitors know they're on a secure connection. This will give them the confidence they need to bid on your auctions and make payments.
How to protect your WP Auctions website from fraud bidders?
Security is critical because more of our everyday lives revolve around things online. Email, papers, bill payments, shopping, and social media have security layers that make us use them with a certain degree of security in the back of our minds.
We also take protection seriously and have put a range of features that help you perform auctions securely on your website.
Defense Auction
WP Auctions relies on the registration mechanism built-in by WordPress for everyone to submit a bid, by default*. Inherently, it offers a degree of protection that removes 99 percent of lazy scammers who cthe registration process cannot disrupt
Besides, the plugin offers additional layers of protection that you can turn on to add to the above measure:
Request to Bid: This function enables the admin to mark all auctions as 'allowed bidders only.' Therefore each registered consumer must request that they be permitted to bid on an auction. You may set it to automatically accept anyone by default and revoke their privilege if they do not display any real bidding operation.
Blacklist: Use this function to stop bidders from bidding on any auction you might have listed.
Delete bids: You can always delete a bid if it seems like it doesn't intend to pay, e.g., a $1000 bid where the last bid was $50 is an instance where you might challenge the validity of the bidder.
Several plugins out there can be used to make user registration much more reliable and stable, rather than only using the default email/password combination that WordPress has adopted by default.
We hope you're confident that WP Auctions will help you execute your auctions safely and efficiently, not only for you but also for your bidders.
Conclusion – Best auction plugin for WordPress
So, which is the ultimate WordPress auction plugin? Actually, it doesn't take a lot to launch an auction website. Here's how each plugin could help:
Setting up a cost-effective and completely operating auction platform – Ultimate WordPress Auction.
Building an all-in-one auction website customizable – YITH WooCommerce Auction or WordPress WooCommerce Marketplace plugin.
Starting an auction website for your own items – WP Auctions
Integrating your eBay account on your personal website – Auction Nudge
The idea of online auctions has put eBay back on the map throughout the day. With 177 million users, it's still going high.
Choose a plugin, find your niche, and start bidding away!
You came to this page looking for the best auction plugin for wordpress, wordpress auction plugin, woocommerce auction plugin, WordPress auction theme, WordPressauction themes, auction plugin, auction plugins, wp auctions, etc WordPress auction, auction house plugin.